This Benzinga Pro review will look at its unique features, usability, and overall value, helping you gauge if this is the right tool for your trading arsenal.
PROS
Real-time news
Comprehensive tools
Community and Learning Resources
CONS
Not for Passive Investors
Potentially overwhelming
Price
By providing up-to-the-minute market data, analytical tools, and expert insights, Benzinga Pro has positioned itself as a go-to resource for many in the trading community. Whether you're a seasoned investor or a newbie venturing into the world of trading, understanding the power of real-time information can be a game-changer in your investment journey.
In this Benzinga Pro review, we will look at its unique features, usability, and overall value, helping you gauge if this is the right tool for your trading arsenal. With the right knowledge and resources at your disposal, navigating the often tumultuous seas of investing becomes a more manageable endeavor.
Quick Summary
Real-Time News Feed: Users get access to a streaming platform for real-time news that affects the market, helping them to make informed investment decisions swiftly.
Squawk Radio: This live audio news feature provides real-time market updates and breaking news directly to users.
Calendar Suite: A comprehensive suite of financial calendars, including earnings, IPOs, dividends, and economic events, help users stay informed about upcoming financial events.
Market Movers: The platform highlights stocks that are making significant moves, either up or down, in the market.
Advanced Screening Tools: Benzinga Pro offers sophisticated screeners for stocks, ETFs, cryptocurrencies, and more, which can be tailored based on specific criteria like sector, market cap, price changes, etc.
Watchlist Feature: Users can create personalized watchlists to monitor selected stocks and receive news alerts on those particular stocks.
In-Depth Data: It provides detailed financial data, including income statements, balance sheets, and more, to help users conduct thorough research on potential investments.
Chat Functionality: Users can connect with other traders and investors through chat rooms and direct messages, fostering a community for sharing tips, advice, and strategies.
Educational Content: The platform includes extensive educational resources, including webinars, to help users improve their understanding of the market and trading strategies.
Premium Customer Support: Users get access to top-tier customer support for assistance and queries.
Price: Starts at $27/month
Current Promotions: Free for 14 days
What is Benzinga Pro?
Benzinga Pro is a comprehensive financial markets platform providing real-time news, analytics, and data to help traders and investors make informed decisions. It's a product of Benzinga, a well-known provider of financial news and analysis.
Who Should Use Benzinga Pro?
Benzinga Pro can be a great tool for many individuals interested in the financial markets, but it might not suit everyone. Here's a list of those who could benefit from it and those who might not find it as useful:
Benzinga Pro is good for…
Serious Individual Investors:

Non-professional investors who are managing a substantial portfolio and want real-time news and sophisticated research tools.

Active Traders: Those who are frequently buying and selling stocks, especially day traders or swing traders, could benefit from the real-time news and alerts.
Benzinga Pro is not good for…
Casual or Passive Investors:

Those who simply invest in index funds or ETFs for the long term may not need the real-time news or advanced research tools provided by Benzinga Pro.

Users with Limited Time: Those who cannot dedicate time to regularly monitor the markets and keep up with the real-time news flow might not fully utilize the potential of Benzinga Pro.
Key Features
Let's take a look at some of the key features of Benzinga Pro:
Stock Scanner
Don't waste time searching for stocks.
Whether you're a brand new trader or have been investing for decades, can help you with preset filters to help you generate winning strategies.
Benzinga Pro's stock Scanner helps you easily scan for stocks with updates in real-time.
Use stock scanning filters like:
Price
Market Cap
Volume
Float
Relative Volume
Short Interest

Shares Outstanding, and much more
Benzinga Pro goes beyond just a scanner tool—find news and data easily in the platform so you can create your stock thesis with confidence.
Advanced News Feed
Filtering feature delivers exactly that, allowing traders and investors to stay a step ahead in their market analysis and trading decisions.
Benzinga Pro offers a dynamic and sophisticated news feed that can be tailored based on a variety of criteria, including:
Stock Tickers
Sectors
Market Movers
Keywords
News Categories, such as M&A, FDA, and earnings reports, among others.
This feature allows you to eliminate irrelevant news, focusing solely on the information that matters to your trading strategies.
Whether you're interested in a broad overview of market news or focused updates on specific stocks, Benzinga Pro's advanced news feed filtering makes it possible.
Moreover, with its real-time updates, Benzinga Pro ensures you are among the first to know about major market news, a factor that could significantly impact your trading decisions and outcomes.
Signals
Benzinga Pro Signals is a feature within the platform designed to alert traders and investors to potential trading opportunities in real-time.
These signals are desktop, sound, and voice alert notifications that inform you about certain events or conditions in the stock market such as:
Price Spikes
Opening Gap
Option Activity
Block Trades
Halt/Resume

High/Lows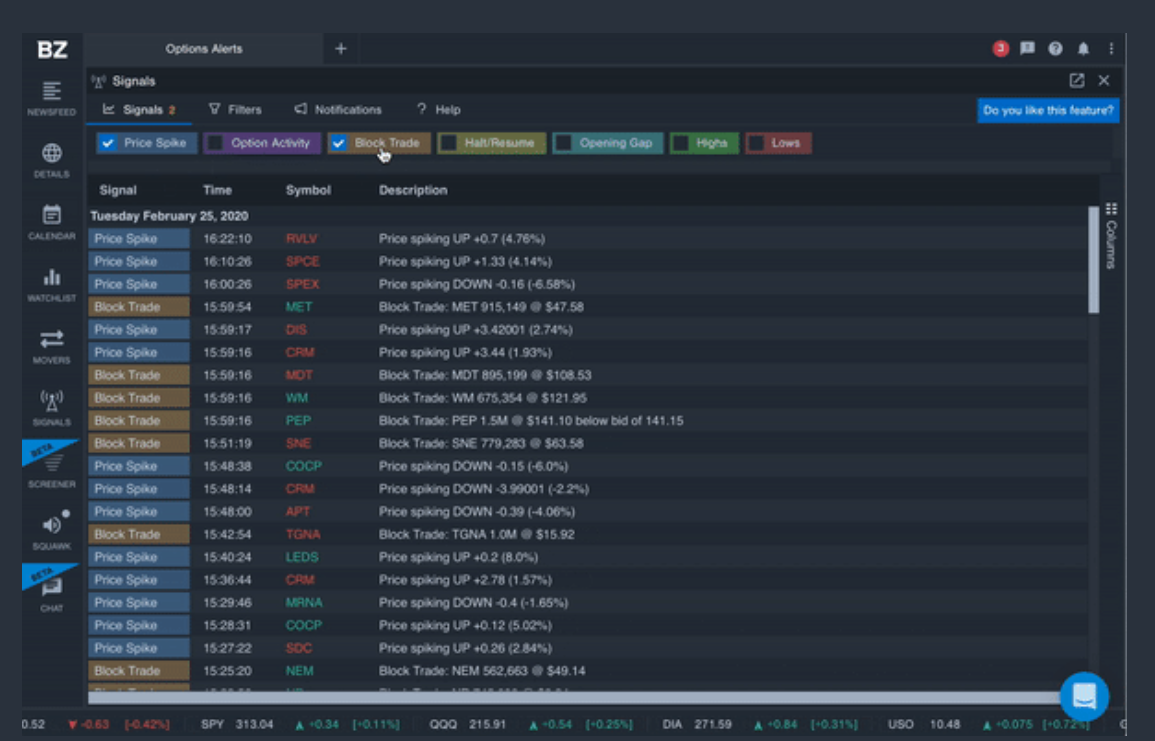 These signals can be customized based on user preferences, so you can choose to receive alerts for specific stocks or for specific types of signals that align with your trading strategy. However, it's important to remember that these signals are tools to help you identify potential trading opportunities, and should be used in conjunction with other research and analysis methods. They are not meant to be standalone buy or sell recommendations.
Squawk Box
The Squawk Box feature on Benzinga Pro is a real-time audio news service that alerts users to market-moving events. The "Squawk" is essentially a speaker in the corner of the Benzinga Pro interface that broadcasts relevant financial news live as it happens.
This feature is useful for traders who prefer to listen to news updates instead of constantly reading news tickers or articles. It's particularly handy when you are multitasking and want to stay informed about market developments.
The Squawk Box announcer will provide information on significant market news, including earnings releases, upgrades and downgrades, economic data releases, breaking news, and more. This allows users to respond quickly to new information and potentially take advantage of trading opportunities.
Overall, the Squawk Box feature is a significant part of the real-time news service that Benzinga Pro offers, aim
PreMarket Trading and Benzinga After Hours
Capitalizing on trading opportunities often requires being able to act outside of standard market hours. Benzinga Pro provides extensive coverage during PreMarket and After Hours trading sessions, ensuring traders and investors can stay connected to the market pulse around the clock.
PreMarket trading with Benzinga Pro starts at 4:00 AM EST, offering an early look into market trends and potential moves for the day. This can be particularly advantageous for traders looking to get a head start on the trading day, assess overnight news and its potential impact, or catch up on international market trends.
On the other end of the spectrum, Benzinga Pro's After Hours coverage extends up to 8:00 PM EST. This allows traders and investors to react to post-market earnings reports, late-breaking news, or simply to prepare for the next trading day.
With its real-time news updates and alerts, Benzinga Pro ensures that you never miss out on important market events, even when the traditional markets are closed. This level of extended market coverage can offer a competitive edge, providing extra time to analyze, plan, and act on valuable trading information.
In conclusion, whether you're an early bird or a night owl, Benzinga Pro's extended coverage of PreMarket and After Hours trading sessions ensures that you have access to critical market information when you need it most.
Stock Calendars
Benzinga Pro Calendars is another important feature that allows traders and investors to stay updated on significant upcoming market events. There are several types of calendars included in the platform:
Earnings Calendar: This provides dates and times for upcoming earnings reports, as well as actual vs. expected earnings data once reports are released.
IPO Calendar: This shows upcoming Initial Public Offerings (IPOs), allowing users to plan for potential investment opportunities in newly public companies.
Dividends Calendar: This provides information on upcoming dividend payments, including payment dates, ex-dividend dates, and dividend amounts, which is helpful for income-focused investors.
Economic Calendar: This calendar tracks significant economic events, such as Federal Reserve meetings, jobs reports, and GDP announcements, that could impact the market.
Splits Calendar: This gives information on upcoming stock splits, helping users plan for potential trading opportunities around these events.
Ratings Calendar: This presents scheduled releases of analyst ratings and updates.
These calendars help users stay organized and ahead of market events that could affect their investments. The ability to see these events in a consolidated view can provide users a competitive edge in planning their trades and investments.
Benzinga Pro Cost
The Benzinga Pro platform has 3 tiers, starting at $27/month for its basic plan.
PROs and CONs
PROS
Real-Time News: Benzinga Pro provides real-time financial news, which can be crucial for active traders who need to respond quickly to market events.
Comprehensive Tools: The platform offers a wide range of research and screening tools, including stock screeners, financial calendars, watchlists, and detailed financial data, which can help users to conduct thorough analysis and make informed investment decisions.
Community and Learning Resources: With its chat rooms and extensive educational resources, Benzinga Pro fosters a community of traders and investors and provides ample learning opportunities, which can be highly beneficial for both beginners and more experienced users.
CONS
Price: Benzinga Pro comes with a subscription fee, and it's not cheap compared to some other platforms. This might be a deterrent for casual traders, beginners, or budget-conscious users.
Potentially Overwhelming: The platform provides a vast amount of information, which might be overwhelming for novice traders or those who are not very familiar with financial markets.
Not for Passive Investors: The real-time news feed, while useful for active traders, may not be necessary for passive investors or long-term holders who don't need to respond quickly to market events. For them, simpler and cheaper or even free platforms might be more suitable.
Best Alternatives
There are several financial news services and research platforms available that can serve as alternatives to Benzinga Pro, depending on your specific needs. Here are a few:
Morningstar Premium
Morningstar is best known for its mutual fund and ETF research, but it also offers a wealth of tools for researching stocks and bonds.
TradingView
It's known for its robust charting platform and social networking capabilities, and it provides real-time data, alerts, and a wide array of technical analysis tools.
The Bottom Line
Benzinga Pro is a comprehensive financial news and research platform with real-time news, advanced screening tools, financial calendars, a live Squawk radio feature, personalized watchlists, and a community chat function. It's most suited for active traders, investment professionals, financial journalists, serious individual investors, and those studying in related fields who require timely and detailed market information.
Benzinga Pro shines with its real-time news feed, detailed financial data, and its ability to highlight significant market movements, helping users to make informed and timely investment decisions. It's also beneficial for those looking to engage with a community of investors and traders, and those who appreciate learning resources such as webinars.
However, the service comes at a cost, with its pricing tiers likely being too high for casual or passive investors, beginners, and budget-conscious users. The comprehensive and extensive information provided by the platform might be overwhelming for novices and those with limited time to devote to the markets.
In essence, while Benzinga Pro offers robust and useful features, its value largely depends on your individual needs, trading style and strategies, level of market expertise, and the amount of time you can dedicate to financial analysis and trading. If these align with the service's offerings, and the price point fits within your budget, then Benzinga Pro can be a highly beneficial tool.